Randy California (1951 – 1997)
A True Spirit and Guitarist Extraordinaire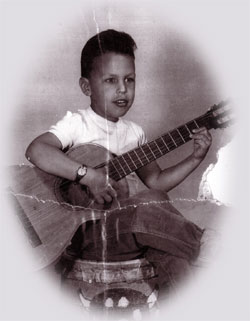 Tragedy has befallen another rock 'n' roll hero. On January 2, 1997, Spirit guitarist and guiding light Randy California, born Randy Craig Wolfe, drowned off the coast of Molokai, Hawaii.
He was on vacation visiting his mother Bernice Pearl, prior to a planned European tour by the rejuvenated and revamped Spirit. California encountered insurmountable conditions while swimming with his 12-year-old son, Quinn. Fortunately, he was able to push his son towards the shore, but sadly could not save himself from the strong undertow that swept him away.
Not only is Randy California's loss immeasurable to his family and friends, but will surely be felt by millions of fans worldwide that have been touched by his songs and the music of Spirit for the past three decades. He was a songwriter of immense talent who wrote with substance (Nature's Way, 1984, Toy Guns, Give a Life Take a Life, I Got A Line On You). His original material often had strong social and political commentary as well as strong spiritual overtones.
California was also a guitarist among guitarists. He could play like Hendrix or Clarence White, Roger McGuinn or Wes Montgomery and did so often within the framework of the same song.
More important than his incredible music talents, Randy California was a fine human being. He never pandered to the whims of record company executives that crave "commercial material" and never succumbed to the passing fads and trends that could easily of led him to super stardom. Instead, he stuck to his eclectic and visionary musical ideas and, as a result, leaves behind a musical legacy that few can match.
I was fortunate enough to get to know Randy through the numerous interviews I have done over the past 20 years. Having been a Spirit fan for much longer, I was in awe when I first met him at a show at Colchester University in England in May of 1978. Spirit had just played a dynamite set that elicited a number of encores. After the show, California and band graciously sat and talked to fans while they signed autographs. This was something that California did often over the years. Although he portrayed an outgoing stage persona, he was surprisingly shy and wary of the media in general.
In late December of 1996, I heard thru the grapevine that Spirit had a new album due out. A quick phone call to Spirit's office resulted in a message on my answering machine from California, who said it was good to hear my voice again and that he'd send me the album. A few days later, we talked and I found Randy to be in a very positive and affable mood, perhaps more so than at any other time I can remember. He spoke enthusiastically about the new Spirit lineup, which included Matt Andes (x-Jo Jo Gunne and Spirit member in the past) on guitar, Andes' daughter Rachel on vocals, founding member Ed Cassidy on drums and Steve Loria on bass. I told him I wanted to interview him for a feature in Relix that would celebrate Spirit's 30th anniversary. California explained that he was off to visit his mother for a few days in Hawaii, but that I should call him there. For some reason I put off making the call, although I'm not sure why. The album arrived in the mail January 2. Inspired, I called to interview him and learned from his mother the devastating news of Randy's sad demise. As a farewell tribute to this major talent, a short appreciation and brief history of his life follows.
Randy California grew up surrounded by musicians, as his uncle owned the noted Los Angeles club, the Ash Grove. As a result, all kinds of people stayed at his house. Randy received free lessons from blues greats such as Mance Lipscomb and Sleepy John Estes. He also took an official lesson from the late great Clarence White during White's days with the Kentucky Colonels.
The story of Spirit really took shape in 1965 with the Red Roosters, which included future Spirit members Mark Andes and Jay Ferguson. At that time, California's mother was married to jazz drummer, Ed Cassidy, and when the family moved to New York the group split.
While in New York, 15-year-old Randy California had a chance encounter with a guitarist at Manny's Music Store. This guitarist turned out to be Jimi Hendrix and before he knew it, he was gigging with Hendrix and his band, Jimmy James and the Blue Flames, at Cafe Wha. It was in fact, Hendrix who coined the name Randy California. There were two Randy's in the band and Randy Wolfe was from California so the moniker stuck. Hendrix was then discovered by Chas Chandler and went off to England and much fame. Shortly thereafter, Randy's family moved back to Los Angeles. The influence of those days with Hendrix, however remained. As anyone who has ever seen Randy play "Hey Joe" or "All Along The Watchtower" knows, he never imitated but rather added his own versatile qualities to those songs while paying homage to one of his mentors.
California formed the band Spirit's Rebellious (taking the name from a book by Kahil Gibran). Within a year, this group evolved into the legendary, Spirit. In May, 1967 the lineup included Randy California, vocalist Jay Ferguson, bassist Mark Andes, keyboardist John Locke and drummer Ed Cassidy. In three years Spirit recorded four epochal albums, the self-titled Spirit, The Family That Plays Together, Clear, and the pinnacle of its achievements The 12 Dreams of Dr. Sardonicus, long believed to be one of the best rock albums of all time.
The band's fusion of jazz, rock, folk, blues and psychedelia has never been matched for its intensity, originality and consistent quality.(Fans of Phish are urged to check out these albums to really discover what "eclectic" means) Luckily, all four of these albums have been reissued on CD in high-quality, extended versions by Legacy/Epic. Ironically, at the height of it's musical accomplishments, the original band split. Andes and Ferguson went off to form the excellent, albeit more basic, rock 'n' roll band, Jo Jo Gunne.
Around this time, California had an accident in which he fell from a horse. Exhibiting erratic behavior, he left the band. The newly recruited bassist, Al Stahaley, along with Locke and Cassidy continued briefly as a trio before recruiting J. Christian Stahaley as lead guitarist. This lineup released the mediocre Feedback in 1972. California resurfaced with a Hendrix-inspired solo album, Kapt. Kopter And The Fabulous Twirlybirds. Cuts included tenacious workouts of the Beatles "Day Tripper" and "Rain", Paul Simon's "Mother and Child Reunion" and several stunning originals namely "Rainbow" and "Downer". Before long a new Spirit with California, Cassidy and bassist Larry "Fuzzy" Knight emerged. The group recorded the legendary cult classic Potatoland, which Epic deemed too non-commercial to release, although a trimmed down version with some different material was eventually released in 1981.
In the early 70's, California also did part of a tour with Deep Purple when it's guitarist, Ritchie Blackmore was taken ill. Throughout the late 70's and 80's, various incarnations of Spirit released a slew of fine and varied albums, including a reunion of the original band for the 13th Dream, the polished, Farther Along, the excellent double set The Spirit of 76, and the bizarre Future Games. More recent efforts have included the much underrated Tent of Miracles and Live at La Paloma, as well as the latest California Blues. (see reviews)
California also made several excellent solo albums in Europe, Euro-American and Shattered Dreams. He was a focal point and spiritual leader for many big name guitarists that toured as The Night of the Guitar roadshow, which featured such luminaries as the Door's Robbie Krieger, Ten Years After's Alvin Lee, Wishbone Ash's Ted Turner and Andy Powell, Yes's Steve Howe, Mountain's Leslie West and the Climax Blues Band's Peter Haycock. This collaboration resulted in an excellent video and a live CD. Prior to his death, Randy had been compiling material for a Kpt. Kopter Volume 2 release.
According to the Spirit website http://kspace.com/spirit, a memorial gathering was held on Jan. 18 in Ventura, which was attended by his family, friends and band members. Acoustic music was performed, including a song Mark Andes wrote for his long-time friend and cohort. One of the bonus cuts from California Blues, a poem that Randy wrote upon hearing of the death of John Lennon in 1981, applies with equal compassion to it's author.
"Beautiful man, Questioning one. Always searching for the reason, You let us visit into your mind, your private world for a time, and what you gave will never die and I will never stop believing in you. We'll never stop believing your dream can come true….imagine."
Randy California's musical genius will be sorely missed, but his Spirit will always live on.
by Mick Skidmore
Copyright 1997 Relix Magazine 1439 E. 37th st. Brooklyn, NY http://www.relix.com. Used with permission.
---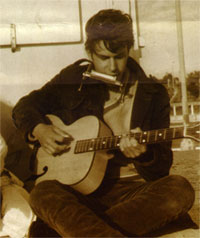 ---